You are here
Host City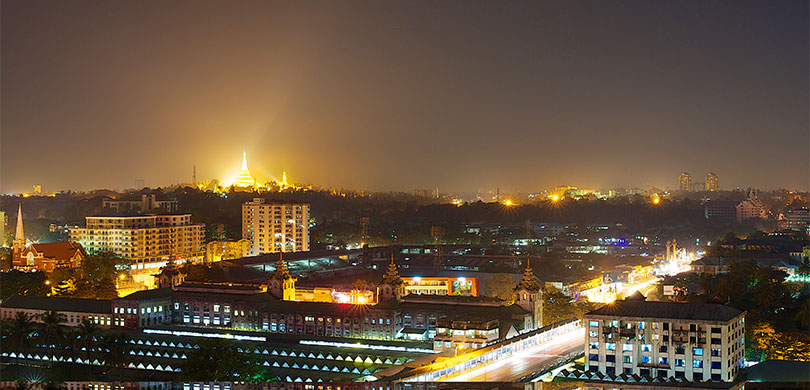 Yangon
Yangon (also known as Rangoon) is the largest city of Myanmar (also known as Burma).
The city is located at the convergence of the Yangon and Bago Rivers about 19 miles (30 km) away from the Gulf of Martaban.
Motto : Yangon Purum Manaw Ra Man
Stripped of its status as capital in 2005, Yangon nonetheless continues to be the hub of economic activity, a hive of underground intellectual debate and the gateway for most international visitors.
That said, many travellers tend to give Yangon short shrift, sacrificing the city for extra time in Myanmar's high-profile upcountry destinations.
This is a pity, as the city is – in its own quirky way – one of the more distinctive in Southeast Asia.
In addition to possessing what is quite possibly the most awe-inspiring religious monument in the region, international isolation over the last five decades has left Yangon with an enduring colonial charm that has all but disappeared elsewhere.
And although a sense of melancholy is a frequent backdrop to this setting, your memories are more likely to be of Yangon's vibrant and colourful streets, its hectic open-air markets, some of the friendliest urbanites anywhere and what is most likely your first experience with an entirely unfamiliar cuisine.
The stunning Shwedagon Paya is the centrepiece of the city, a gleaming golden stupa visible from all over town.
Closer to the waterfront, downtown Yangon is a warren of historic streets concealing some of the best British colonial-era architecture in the region.
Forget the cosmetic renovations in Singapore: this is the real deal. A walk along the Strand or Pansodan St is like strolling down Pall Mall, albeit without the paint job.
Vibrant and dynamic, sweaty and steamy, reaching for the future but trapped in the past, Yangon is a fascinating introduction to Myanmar.
It's diverse too – home to Burmese, Shan, Mon, Chinese, Indians and Western expats.
The main religion in Yangon is Buddhism and the local currency is named Kyat.